Entertaining & Informative!
KEYNOTE: Using a touch of magic, Tom Britton brings the theme of your conference to life in a meaningful, magical way. Hard-hitting information delivered in a fun, memorable way. (Always customized to speak to the heart of your group.)
Topics:
1.

Finding the Magic in CHANGE

  
Your attendees will begin looking at CHANGE from a new point of view. Tom helps open minds to new ways of thinking about change….and will have your people more receptive to the new ideas being shared at your meetings. Knowing when to CHANGE and when to HANG in there is a big key to success! They will learn, laugh, and have their spirits levitated!
Using a touch of magic Tom will help your attendees:
Begin thinking differently about change.
Diffuse stress and ignite some excitement about change!
Know better when to change and when to "hang" in there.
Avoid costly communication pitfalls.
Plus help open their minds to profitable new ideas.
For over 20 years, Tom has been helping, informing & entertaining audiences plus making meeting planners in 34 states heroes. 
2. Growing Your Business Through Relationship Marketing
 In this magical session Tom Britton shares, from his bag of tricks, tips to help increase your client base. You'll leave this session equipped, inspired and ready to profit from the contacts you make each day.
Selling others on YOU
Planting seeds for new business each day
Where to find new clients
5 steps for effective follow up
Pick a card…YOUR card
Levy's amazing secret
3. The Magic of Making your Dreams Come True
From his bag of tricks Tom shares his proven 5-step process for setting and achieving your personal, family and career dreams.
Learn how to deal with problems that stand in the way of reaching your goals. Plus the importance of balance that helps make the journey toward your goals an enjoyable experience.
I Predict Your Next Meeting Will Be a HUGE Success!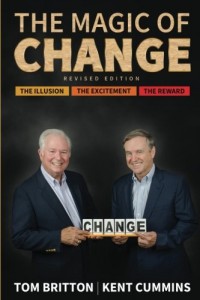 Finding the Magic in CHANGE: The Illusion, The Excitement, The Reward
Tom's most requested keynote presentation brings your conference to life in a meaningful, magical way. It reveals CHANGE for the illusion that it is and helps transform the fear of change into excitement that produces rewards.
Nothing decreases productivity or stands in the way of reaching goals more than the fear of CHANGE. But it doesn't have to be that way. Change, like magic, is mostly an illusion. Knowing when to CHANGE and when to HANG in there can spell the difference between success and failure….in life and in business.                                                                                       *Available on AMAZON
Leading Through the Stress of CHANGE (Add this breakout.)
Tom's Top 10 daily stress reduction techniques.
3 types of motivation. Which works best?
Remembering your "crown."
Dr. Levy's amazing leadership secret.
Avoiding communication pitfalls.
Creative problem solving.